Hello Everyone, Its the youngest here- Mary.
When heard the news of my mothers diagnosis I immediately wanted to do something with all of the negative that has been placed around us and create some positive. A breeding ground for happy memories, and the power to do something good with the unfortunate we've been handed.
Thus, I've assembled a group of fantastic, supportive people who will be working with my family and I to help with a series of fundraisers for my mother. We will give you information on every event shortly...
This one however requires a little bit of work.
He who plants a tree, plants a hope.
- Lucy Larcom, Plant a Tree

On September 13th, 2010 we will be receiving 500 Saplings that need to be brought to new homes, to clean our air, get our families together, and be planted. I've created a really simple pre order form that you can print off and mail to me with your donation, or with the magic of the internet click the Donate Now button on this blog and its as easy as that. Just make sure you submit your form to me through email or postal. You will be contacted via Email after your order has been received to discuss pick up possibilities.
If you have any questions please do not hesitate to contact me.
Please Download and View the Pre Order here :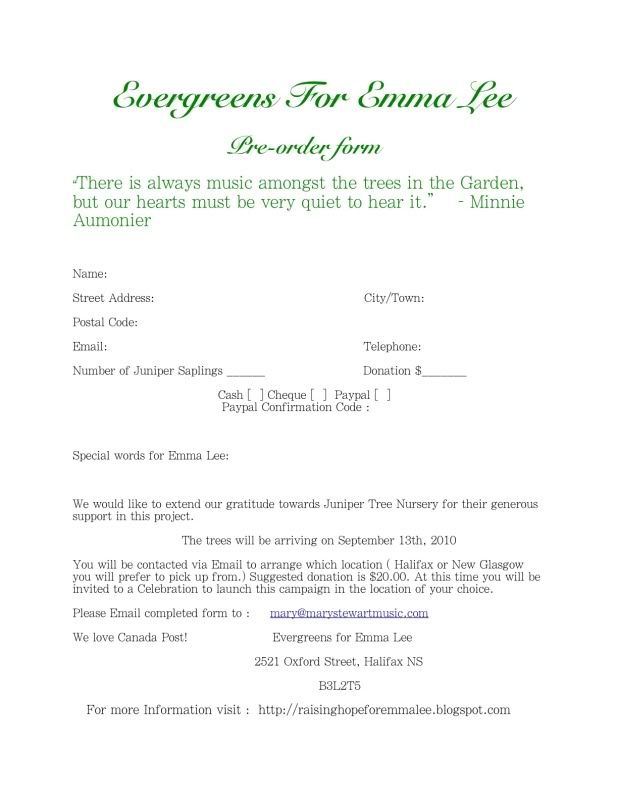 The suggested donation is $20.00 per sapling, however we will graciously accept whatever amount you can spare.